Discover more from Suburban Pagans
Festivities, Revels, and Nocturnal Dalliances
Special Edition: A Drink with Young(er) Indiana Jones
Examining the booze of Indiana Jones and the Peril at Delphi
From his misadventure procuring a bottle of bootleg booze to his keeping up with compatriots in Paris and Greece, Indiana Jones and The Peril at Delphi manages to cover a few notable alcohols.
Retsina is the star of the book. It's a traditional Greek drink with a history spanning at least 2,000 years. It's a white, resinated wine, which means it picks up some of its flavors from exposure to pine sap. In the ancient days, this happened when jars containing wine were sealed with pine resin to keep them from going bad. The resin would infuse the wine with some of its characteristics. Modern retsina has the resin added directly to the wine must (the raw, crushed juice created early in the winemaking process). A tavern keeper in the village below Delphi also mentions "aretsinoto," which is just Greek white wine without resin. Although any country could conceivably make a resinated wine, "retsina" is now a protected designation reserved for products from Greece (in the same way anyone can make brandy but only a particular region in France can produce "cognac"). You might not be able to find it anywhere and everywhere, but Greece does export a fair amount of retsina to the United States. My local recommends Ritinitis Nobilis.
Indy eventually acquires a taste for retsina, but he's less forgiving of the brash licorice taste of Greece's national spirit, ouzo. Ouzo falls into a class of spirit that gains its dominant flavor from anise. It's similar to Sambuca (Italy),  Pernod (France), raki (Turkey, and also mentioned in The Peril at Delphi) and absinthe. Indiana Jones may not care for it, but another globetrotting adventurer — James Bond — drinks a ton of the stuff during his own Greek adventure, Colonel Sun. Metaxa Ouzo and Ouzo No. 12 are two of the most common brands in the United States. Speaking of which, Indy also contends with more than a few pours of Pernod while in Paris. Absinthe having been outlawed in 1915, on account of its wormwood content and the wildly-exaggerated reports of "hallucinogenic thujone," Pernod was the most popular replacement and is still widely available today.
On the train to Greece, Dorian introduces Indy to a cocktail called the French 75. A wildly popular drink that has enjoyed quite a renaissance recently, its exact origin is, like those of many famous cocktails, confusing and often contradictory, with different sources citing entirely different stories and timelines. It is named in honor of the French 75mm cannon, a staple of the French army during World War I. It was so named either to honor the field gun or because it hit you like a shell from said field gun. A more fanciful version of the story claims that the cocktail was invented on the battlefield, either by soldiers or by aviators who, finding themselves well-stocked with gin, Champagne, sugar, and lemon combined the ingredients in a spent 75mm artillery shell. That almost certainly didn't happen, but it's a pretty good tale, and one savvy bartenders were quick to embrace.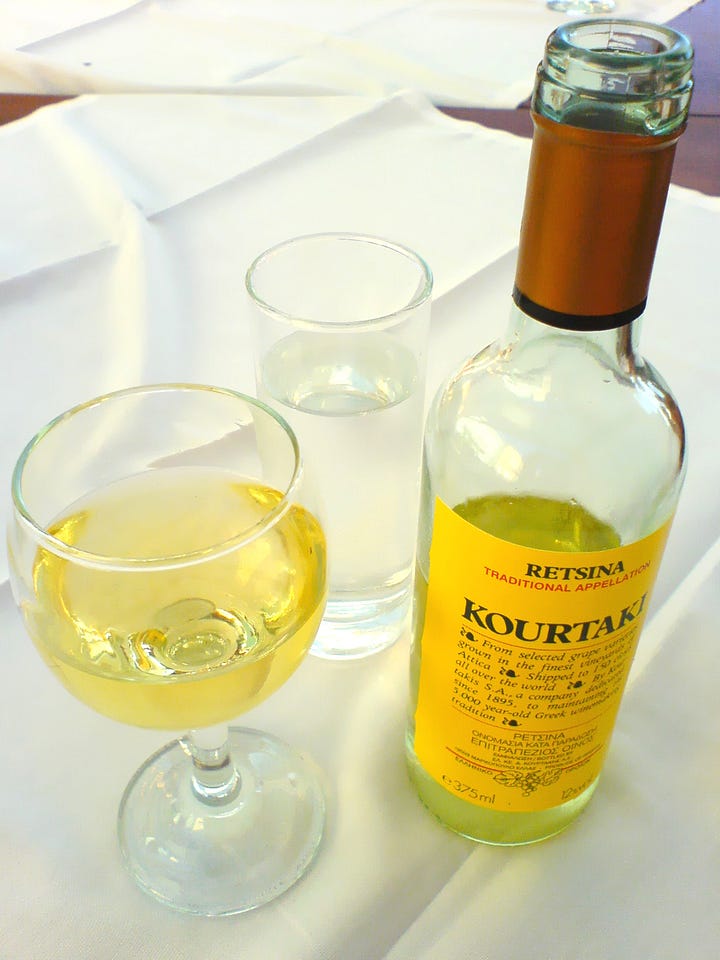 Origin aside (we'll let Difford's Guide deal with sorting out that mess), the cocktail that began life in 1915 as the soixante quinze (seventy-five) has undergone a number of changes over the years, depending on changing tastes, the practical availability of one spirit over another, and the occasional need of a journalist to guess at what he was drinking (or remember what the bartender told him). Most different from today's version is the absence of Champagne. Instead, the early 75 uses apple brandy — applejack in the US, Calvados in France. The brandy was dropped and the Champagne was introduced either in 1919 or in 1927, depending on who you read and what they are using as a source.
If Indy is enjoying one in 1922, he's possibly drinking a version created by a bartender named Henry Tepe of Henry's Bar (which was right around the corner from Harry's Bar, run by Harry MacElhone, another bartender often attributed as the creator of the French 75). Tepe's version appeared in print in the 1922 guide Cocktails, How to Mix Them, compiled by Robert Vermiere. However, that version still lacked Champagne and used Calvados, and Peril at Delphi describes the drink as containing "Champagne and vodka." That's called a French 76, and it debuted in the 1990s (the same time, incidentally, as Rob MacGregor was writing the book, and a time before the resurgence of craft bartending and booze historians, so I can understand where he might have been led astray).
To be safe, I'm including several versions, with the last one being the most common today, though at the suggestion of cocktail historian Jeffrey Morgenthaler, I'm opting to skip the Champagne flute (a late addition to the game) and serve the drink in a Collins glass over ice. It was, after all, a variation on a Tom Collins, at least eventually. That's cocktail history, folks! You try to piece together bits of disparate and often conflicting info until you assemble a reasonably believable hypothesis. And if you are wrong…well, at least you have a pretty good drink.
Soixante Quinze
2/3 oz London dry gin

2/3 oz Laird's applejack

1/3 oz grenadine

1/6 oz fresh lemon juice

1/2 oz chilled water
Combine all ingredients in a shaker with ice and shake well. Strain into a chilled cocktail glass.
75 (Vermiere/Tepe)
1 1/3 oz London dry gin

2/3 oz Calvados

1/6 oz fresh lemon juice

1/4 oz grenadine
Combine all ingredients in a shaker with ice, shake well, and strain into a chilled cocktail glass.
75 (MacElhone)
1 1/3 oz Calvados

2/3 oz London dry gin

1/6 oz grenadine

2 dashes absinthe or Pernod
Combine all ingredients in a shaker with ice. Shake well and strain into a chilled cocktail glass.
French 75
2 oz London dry gin

1 oz fresh lemon juice

3/4  oz simple syrup

3 oz Champagne
Combine gin, lemon juice, and simple syrup in a shaker with ice. Shake well and strain into an ice-filled Collins glass. Top up with Champagne. Garnish with a lemon twist. If you don't want it over ice, then use a chilled coupe glass.